In English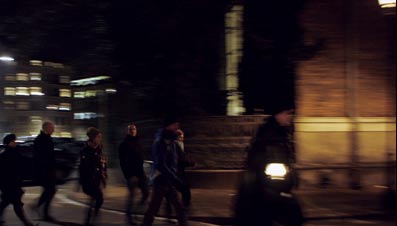 Private Ghosttours in English (for groups only) can be booked all months of the year.
The genuine thing.
- the Ghost tour
The ghost stories we tell in ghosttour.dk are the genuine thing. When dusk falls, our guides will lead you around in the old Copenhagen, where they – wearing a cape and with a lamp in their hand – will tell you seriously hair-raising tales from the dark side of our Capital. The stories you will hear include those of a little boy who cannot sleep, spirits from Greenland and the hunger of a dead little 8 year old girl. On the tour we also visit one of the old and forgotten cemeteries in Copenhagen city - you never knew so many skeletons were in the ground of Copenhagen.
Have dinner with ghosts
We also offer to arrange "dinner with ghosts"… This is your opportunity to have dinner at a restaurant we know to be haunted, and then go on a guided ghost tour afterwards. Both types of offers require you to book in advance.
A forgotten group
- the Nightmen tour
For about 300 years the Nightmen were at the bottom of the Danish society. They were born to take care of chores that neither respectable citicens or poor people would ever do – for exemple to chop up executed criminals. The Nightmen and their families developed into a parallel society, obeying only their own laws and developing their own secret language.
Follow the Nightmen around Copenhagen and discover a side of Copenhagen which was forgotten many years ago. The tour will take you back several hundred years to the macabre daily chores of the Nightmen and their constant fight with the other citicens. The song of the Nightman has not been heard in the streets of Copenhagen for hundreds of years. But now it's heard again.
The story of the Nightmen is a tale of the exclusion of a population, their search of vengence, lack of power and pride.
The guides
Our guides are experienced in the art of story-telling, and include both professional and amateur actors, historians, and rhetoric students.
Booking:
For private tours in English we have a minimum charge of 2.500 kr. for up to 20 people, and 100 per person after that. Contact us for booking:
+45 51 92 55 51
Phone lines open Thursday, Friday and Saturday 11-13
booking@ghosttour.dk
Where:
The Ghost tour:
The tour starts at Gråbrødre torv - under the big tree and ends at Vestergade 29, near the City Hall Square (Rådhuspladsen).
The Nightmen tour:
The tour starts at Højbro Plads - very close to Christiansborg, the Parlament.
Duration:
The ghost tour takes about one and a half hours.